Dr. Carlos Pola, DVM
Picking a veterinarian is an important decision. Let me tell you a little about my background and how I got to where I am today at Enterprise Rd Animal Hospital, and hopefully to being your veterinarian in Safety Harbor, Northwood, Countryside, Clearwater and Oldsmar!
In the fall of 1987, I enrolled as a junior at the University of Florida to pursue my undergraduate studies for a B.S. degree in Microbiology and Cell Science. I was later accepted into the UF College of Veterinary Medicine and became a proud member of the 1993 graduating class. Throughout my veterinary studies and practice, I've maintained a special interest in ophthalmology and acquired advanced training and experience through Board Certified Veterinary Ophthalmologists, Drs. Dan Wolf and Tom Miller.
1993 – 2003 Gulf Bay Animal Hospital, Dr. Scot Trefz, Clearwater, Florida
I launched my veterinary career under the tutelage and guidance of Dr. Scot Trefz, Owner of Gulf Bay Animal Hospital and fellow University of Florida College of Veterinary Medicine graduate. I was an integral part of his 3-doctor team at Gulf Bay Animal Hospital and worked along side of Dr. Trefz for a decade.
2004 – 2007 Florida Relief Veterinarian Practitioner, throughout Florida
I married in 2004 and relocated to my wife's home base in Gainesville, Florida where I became a Relief Veterinarian Practitioner for multiple practices throughout the state including for Dr. Trefz at Gulf Bay Animal Hospital in Clearwater, Hilltop Animal Hospital, Town & Country Veterinary Hospital, Westside Animal and Dunnellon Animal Hospital in the Gainesville and Ocala areas, Vero Beach Veterinary Hospital and Live Oak Veterinary Hospital in Vero Beach, and Hirsch Animal Hospital in Jacksonville.
2008 - 2011 Westside Animal Hospital, Gainesville, Florida
Accepted the position of Medical Director/Sole Practitioner at Westside Animal Hospital by the Medical Director and Owner as he entered his semi-retired stage in life.
2011-2013 Emergency & Critical Care Veterinarian, Gainesville, FL
Emergency house call veterinarian serving the Gainesville and surrounding areas for clients who needed veterinary services provided in their homes.
Current Enterprise Rd Animal Hospital, Clearwater, Florida
I relocated back to Clearwater and opened Enterprise Rd Animal Hospital as Owner and Medical Director to serve the Clearwater, Northwood, Countryside, Safety Harbor and Oldsmar areas. The location has been extensively remodeled to exude a relaxing and inviting clinic not only to provide "state of the art" and exceptional medical care for your pets, but proudly boasting exceptional customer service and compassion.
As for my personal background, I was born in Miami and have been a lifelong Florida resident. I have an 11 year old son, Santiago who has already become a better fisherman and bicyclist than me, and he's working hard to surpass me in video games. My mother, brother and sister still reside in Miami and we visit often. In my spare time I can most likely be found wind surfing, fishing, strumming my guitar or listening to music, playing tennis, or watching Gator games and tail gating. My son and I have a Golden Retriever named Julio and recently lost our faithful companion of 14 years, Haas, a Catahoula.
---
Dr. Scot Trefz, DVM
Hi, I'm Dr. Scot Trefz. I am a 35 year experienced DVM and the former Medical Director and owner of Bay Moorings Animal Hospital in St. Petersburg and previously Gulf Bay Animal Hospital in Clearwater where I first met and hired Dr. Pola as an associate veterinarian in 1993. I am delighted to be working with Dr. Pola again and look forward to meeting you and your furry children! I am committed to providing the very best veterinary care at affordable prices for your four-legged family members in a compassionate, warm and family oriented environment while exceeding clients' expectations of customer service.

I was born in Lakeland and my family moved to St. Petersburg where I grew up. I graduated from Canterbury High School where my name is proudly the first to be adorned on Canterbury's gymnasium wall recognizing past top scholar athletes. I then went directly to UF for my undergraduate study where I was accepted early into UF's College of Veterinary Medicine. In recognition ranking in the top 5% of my veterinary class, I was admitted as a junior into the College of Veterinary Medicine's Honor Society, Phi Zeta, in 1984. I was bestowed the surgical excellence award for my senior veterinary class and graduated with honors on June 1, 1985. I reside in Tierra Verde with my fiance', Karen, and our two kitty cats!
---
Melissa, Front Office Manager
Hi, I am Melissa, the Front Office Manager and a veterinary technician for Dr. Pola and Dr. Trefz. I recently joined the ERAH team to further my 17 year career in veterinary medicine. After spending 16 years with Publix, I followed my heart and pursued a career in the veterinary field and joined Gulf Bay Animal Hospital in Clearwater in 2007. That is where I first met Dr. Trefz and Dr. Pola and here I am today to assist them with managing the day-to-day front office operations and filling in as a technician when needed! I recently left Dr. Trefz's former practice in St. Petersburg after joining him there in 2013.
I was born with a love for animals that brought me into this profession to begin with and keeps me always anxious to get to work to see what the new day brings!
My husband Dave and I have three furry babies. Pachouli a Torti, Lexi a Calico and Mr. McDuff, a domestic long hair. I have 3 human adult children, Alison, Jeremy and Matthew. I moved to Florida from my hometown of Bridgeport, Connecticut when I was 8 years old and currently reside in Largo. I look forward to many years of helping take care of your furry family members!

---
Megan, Office Manager & V
eterinary Technician
Hi, my name is Megan Filip and I have been working for Dr. Pola at Enterprise Rd Animal Hospital for over a year now. I am originally from Detroit, Michigan, and my husband Darrell and I relocated to Florida 11 years ago with our three children.
We immensely enjoy the warm Florida climate and being able to do outdoor activities all year around, which was certainly not the case in our native state of Michigan!
Darrell and I have 2 Chugs (Chihuahua and Pug mix) whose names are Dev and Simi, and we have 4 cats, Ash, Styxx, Ice and Chubbs.
I have been working as a veterinary technician for the last 7 years. I have a strong passion for and absolutely love working with all of pets and their owners. I am excited to be a part of team like Dr. Pola's who provides the best care for each individual patient.
---
Nancy, Sr. Veterinary Technician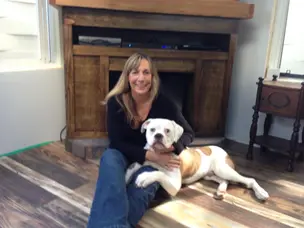 Hi, my name is Nancy Jensen and I have been a Veterinary Technician for over 20 years. I began my career in upstate New York working as the Office Manager and Technician at a small animal hospital that also handled wildlife rehabilitation. When we relocated to Clearwater in 2005, I became a part of Dr. Scot Trefz's team at Gulf Bay Animal Hospital.
I reside in Clearwater with my husband, Keith, our American Bulldog puppy, Titus, and our 2 cats, Sofia and Madi. In my spare time, I love to read, go boating and most of all, spending time with my children and grandchildren.
I previously worked with Dr. Pola at Gulf Bay Animal Hospital and am excited to be working with him again and being part of his team at Enterprise Rd Animal Hospital!
---
Rebecca ("Beca"), Veterinary Technician
Hi, my name is Beca and I am a Veterinary Technician here at ERAH! My full profile is coming soon!
---
Karen, Practice Manager
My name is Karen and I handle the business, accounting and marketing for Dr. Pola and staff at ERAH and immensely enjoy working in the veterinary field around all the cute little doggies and kitties!
I was born and raised in Dayton, Ohio before moving to the Sunshine State in 1977. I reside in Tierra Verde with my fiance', Dr. Trefz who recently joined Dr. Pola's team after we sold our previous practice in St. Petersburg.
---